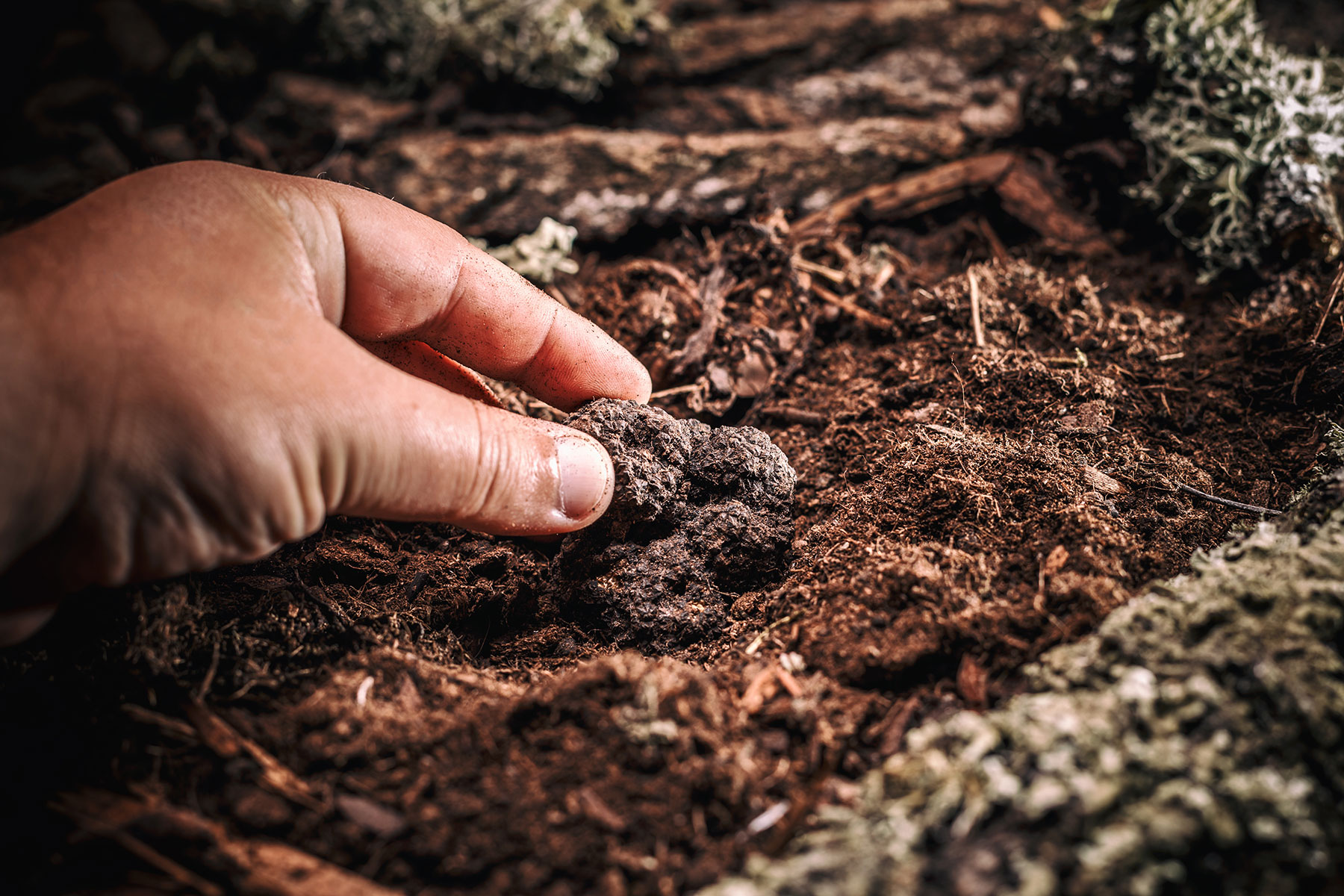 Truffière 101
Here are some frequently asked questions about truffle.
+ Who are we?
Cartwright Truffière is located just south of Cottage Grove in Oregon. Owned and operated by Simon and Linnet, along with help from family and friends, we are a small (by world standards) truffière of approximately 4 acres set in the southern tip of the Willamette Valley.
+ What we do?
We strive to provide our customers with the freshest Perigord Truffle. We carefully manage our nearly 700 inoculated filberts and oaks in order to produce the essential conditions for the truffles to develop. We use the best available truffle hunting teams to search for them in order to only gather truffle at its peak. We grade and package our Perigord for either hand delivery or shipment within 24-48 hours from harvest.
+ How do truffles grow?
Good question, and judging by the papers written on the subject no one really knows the full answer. We do know that Perigord truffles are the fruiting body of Tuber melanosporum and live underground on the root system of filbert (hazelnut) and oak trees. For it to thrive, certain conditions need to be just right, such as soil pH, climate, and water. As the root system and the fungus spread out, there is an interaction between differing sexes of the truffle and in late spring, early summer truffle are "born". These little pea-sized truffles grow over the summer and fall months until a cold snap signals them to mature. It sounds simple but with so many variables the question becomes for most growers, "is it my good management or divine intervention producing our truffle?" We like to believe it is both.
+ What do I look for when I want to buy Perigord truffle?
First and foremost, be informed about the seller. You're buying one of the culinary world's greatest treasures. Unfortunately, as with any treasure, there are always those who would take advantage of the situation. Any truffière should have had confirmation of their truffle strain by an independent company, preferably with DNA testing and definitely with microscopic evaluation of the truffle spores. Be aware that the name "European black truffle" covers more than Perigord. Canned truffle, for instance, can be a mix of the lesser varieties along with Perigord. If you look at the ingredients you will quite often see Tuber aestivum (summer truffle) listed as well. Summer or Burgundy truffles are great culinary truffles; however we believe there is a reason Perigord truffle is considered the best of the black truffles. We recommend asking for Perigord (Tuber melanosporum) by name in the winter months to ensure you're not paying for something else. A first grade truffle from a great source will be firm with a solid texture on the outside, free from worm holes and major defects. It should be black or very dark in color; redness on the skin of the truffle is a sign that it is unripe or has patches that are not quite fully ripe yet and it may have a less intense aroma. It should be nicked showing the interior, which will be chocolate to black with white veins, and it should emit an intense pungent aroma with no rotting or moldy smell.
Second, beware the shipment of old truffle. Once a ripe truffle is separated from the soil the only direction its quality can go is down. Even though, with care, a truffle may maintain structural integrity and some odor for weeks after harvest, the best truffles are the freshest truffles. Why pay good money for substandard product?
Third, beware of unripe truffle. A great dog handler also has a great nose. While the dog might find the truffle, it is the handler who makes the final decision on its removal. If you have ever eaten a dish that "had truffle" but you wondered what you paid for, it was probably because the truffle was picked too early.
This brings us to grades of truffle. Truffle has four common commercial grades, and in the USA we have introduced a domestic grade for the home chef. Truffle grades are not based on flavor or aroma (it is either picked correctly or not) but rather on size, quality of the fruit, and usability. For the home chef we recommend finding a supply of petite table grade. This is a smaller (50 grams or less) first grade truffle that is perfect for small dinner parties or a spectacular weekend brunch.
+ How do we store truffles?
We recommend an air tight container and in the lower section of your fridge. Getting your truffle within 48-72 hours of it being removed from the ground gives you a few days infuse foods such as cheese, cream, eggs and meats since there is little loss in flavor or aroma over the next 3-5 days. If it is older than that when you receive it, you should be thinking about using it pretty quickly, though some recipes do require the addition of that cheese-like funk that comes from older truffle (especially Oregon Black). As we are fortunate to get fresh locally produced truffle, we put ours in a large glass container (our truffle locker) with an open container of cream, eggs and sticks of butter, still wrapped. Some people swear by storing them with rice but I prefer the dairy route as it allows us to use every ounce of truffle aroma in our cooking. We don't mix and match different varieties as they have differing flavors and aromas.
+ What about native truffle species?
Oregon and the Pacific Northwest are blessed to have some of the great truffles outside of France and Italy. While Perigord is the crown jewel in culinary circles (the Italian whites being out of reach for most of us), native Oregon truffles are great for a change or if you are after those particular aroma and flavor notes that are unique to these precious little nuggets. We are incredibly happy to work with some of the best in the business when it comes to sustainably harvesting from our native timber lots. We try to avoid, if possible, truffle that has been harvested by raking as the quality and environmental impact can vary greatly depending on the harvester.
+ What do you mean rake?
Raking is a technic used up until recently to harvest all of Oregon's native truffles. A truffle hunter will rake the duff and soil at the base of a tree in hopes of finding truffle. Raking gathers ripe, unripe, and otherwise useless truffles and the quality that you buy suffers greatly. Not only do you get bad truffles, the tree roots are exposed to the elements if the duff is not replaced and the tree may be damaged. Additionally, by taking as much truffle as can be found in an area, whether it is ripe, unripe or rotten, little is left for regeneration for the next season.
+ What about truffle oil and truffle salt?
We like fresh truffle, however for 6 months of the year (you can now get Southern Hemisphere grown Perigord truffle in our summer) if you have to feed your truffle jones, it means going to a substitute such as oils and salts. Most truffle oil is synthetic and misses the true flavor and aroma of real truffle. Salts on the other hand do have a small amount of dried truffle which definitely brings some truffle to the party, however it needs to be used pretty quickly as the aroma will dissipate. Also, be aware of the kind of truffle used in the manufacture of the salt. Of course, fresh is always best.
+ I want to look for truffle.
We are excited to lead truffle experiences on our property several Saturdays during the Perigord season (Dec-March). Please contact us for upcoming dates.If you are interested in hunting for wild truffles we recommend our friends at the Truffle Dog co who lead forays in Washington and Oregon when the native ones are in season. They also do dog training (we have seen everything from the famous Lagotto to pound puppies used for truffle hunting). The Oregon Truffle Festival (OTF), which is held in Portland and Eugene in late January, has some forays organized along with some of the best food the PNW can offer.
+ Can we visit your place?
We currently don't open our gates to the general public for drop-in visits. You can always contact us to find out when we will be hosting our truffle experiences which occur during our truffle season. If you are someone wishing to start a truffière, restaurant owners, chefs or specialty food outlet managers; Please contact Simon simon@cartwrighttruffles.com to see about arranging a one on one visit.
+ I want to start a truffière or I have one that is not producing.
Simon is more than happy to talk to you about the basics of what it takes to start and manage a truffière. Please send him an email simon@cartwrighttruffles.com to start the conversation.